---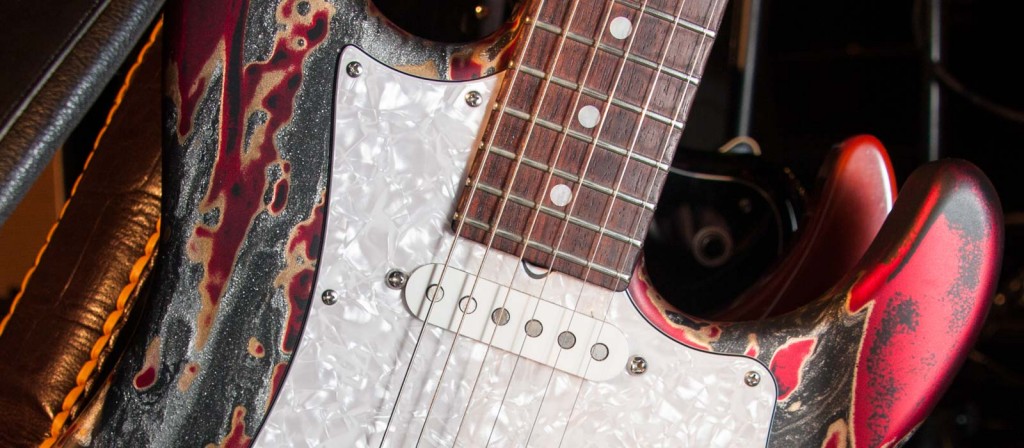 Let´s have a look at my favorite guitars…
Gibson SG with Evertune System & Seymour Duncan Mayhem Pickups

Maison RE-280 with Gotoh Tremolo, Seymour Duncan SH-6 & Auly Guitars Single Coil

Zagler Custom Guitars: DOUBLE & THE BIRD
Zagler Custom Guitars: Stratocaster
Funk monster!
The first guitar Paul Zagler built for me.
Real cool Strat!
Zagler Custom Guitars: Stratocaster 7-string
Tone BEAST!
We created this guitar to my impressions.
Amazing reaction on amp and sound.
Fat neck but shredding is always possible.

James Tyler Studio Elite Burning Water 2K

One of my absolutely favorite guitars I ever played!

Gibson Les Paul Standard
Since I watched Slash playing that guitar I fell in love with it!
My first electric guitar when I really believed in a musician´s life.
By the way: I bought my very first guitar from a school mate but it was stolen from the rehearsal room.
It was an Epiphone Stratocaster S-Series.

Gibson ES-137 Classic
Semi-hollowbody sister…
Ibanez JPM100 P4 6-string

Ibanez UV-777 7-string


Ibanez TAM10-WH 8-string


Fender Baritone Special HH
Samick HF650

Stanford OM5VIN

Antonarra Luthier Japon
One of my first guitars…